Spa Treatments
Brighter Whites
Perfect for White coated breeds.
Your dog will have a Blueberry and Oatmeal facial applied to help reduce tear and beard staining followed by a full bath with our whitening shampoo which contains evening primrose oil.
This will lift and brighten the colour of the coat without stripping the natural oils in the skin.
Mineral mask
The Mineral Care Mask is specially designed for use on skin damaged by severe itching or irritation. It contains natural ingredients rich in fatty acids to work deep through the layers of skin to combat scaly, seborrheic skin complaints.
Your dog will have the mineral mask applied to the body and face and allowed to relax whilst the mask penetrates deep into the skin and then the coat thoroughly rinsed and dried.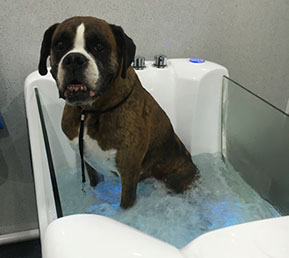 All these five treatments include a full dry
Pedi-Paws
Your dog will have their nails cut and filed to perfection, followed by a trim of hair from around the paws and in between the pads. This is then finished by applying a protective foot cream with a healing formula to protect and soothe canine paw pads.
Mineral Anti-Ageing Bath
Our Mineral Anti-Ageing Bath is a deep cleansing exfoliant-like cream that dissolves and removes dirt and dead skin cells. Your dog will have a full body scrub and then have a soak to fully gain the benefits of the anti-aging bath. This bath soak also helps to moisturise both coat and skin to protect against ageing adding radiance, softness and shine. It combines a wide range of effective natural ingredients and antioxidants including eucalyptus, germanium and cedar bark oil.
Dead Sea Mineral Mud bath
The mud bath provides a reviving tonic for both skin and coat. Your dog will love being covered in mud and enjoy being allowed to play in our custom made extra large showers whilst the treatment works deep into the skin. The dead sea mud blended with essential oils cleanses deep-down removing impurities and toxins, and relieves skin irritation, It helps to de-stress your dog and also aids circulation making it an ideal treatment for any age. This treatment is a natural repellant against fleas and ticks.
Jacuzzi Session
Having the use of one of our unique jacuzzi's means your dog can now enjoy the same luxurious pamper that their owners enjoy for themselves.
The jacuzzi bubbles help to deep cleanse into the skin whilst helping to soothe aching muscles and joints. Especially good for dogs who are older or recovering from surgery or an injury.
The Pure Dead Sea Salts create a restorative bath soak to nourish skin and coat, and relax the muscles in between the bursts of bubbles.
(Not recommended for dogs with a heart condition)
Ultimate Luxury Pamper Package
The full pamper package for your best friend. Your dogs luxury pamper starts with a full jacuzzi session. Once thoroughly relaxed they then have the choice of either a Mineral mask or a Mud Bath and finish off the experience with a Pedi-Paws.
…….because your dog is worth it too !!!
OUR SERVICES
Call us on: 029 2132 2828